It may come as a surprise to you, but there are a lot of stories and ideas about James Bowie's famous knife that are complete nonsense, Texas tall tales, if you will.
One legend is that the Bowie knife was made from a meteor. There is no evidence anywhere to support that. Now it's not impossible as meteorite contains a lot of iron and nickel and they have been used to make tools and weapons, but if this were the case for Bowie's knife, no one ever mentioned it.
Like a lot of men, story tellers tended to exaggerate its size as well. I've read stories of the knife having a fourteen inch (ha. you wish) blade or having been similar in size to a short sword (that's what she said). In fact, the blade of the original Bowie was nine and one fourths inches. Hell, that's pretty substantial, but definitely not a sword.
Here's one you may not know about. It's probably the biggest fuck up of them all and damn near every knife maker who has made a "Bowie" is guilty of this inaccuracy.
Most people think a Bowie has a big guard and a clip point like this...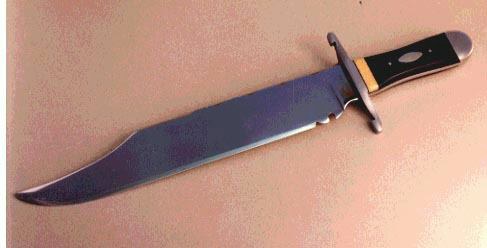 Well, most people are wrong as hell. It actually looked nothing like this. So what did it look like?
How 'bout this, Tex?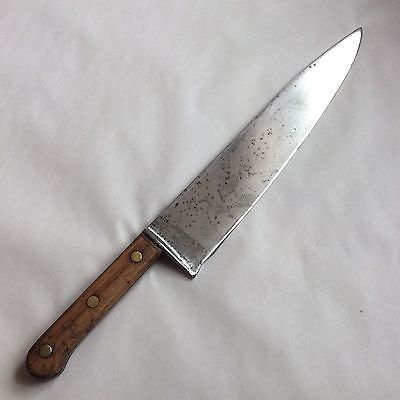 No I'm not kidding. Bowie's original knife was a hunting knife designed by his brother, Rezin Bowie, that resembled a large butcher knife with a straight, single edged blade, almost no guard and definitely no pronounced clip point. It was designed, according to Rezin Bowie, as a hunting knife and was used as such for quite some time before James Bowie took it to the infamous duel on the sandbar. It had no fancy silver bolsters or brass guard. It was just a basic big knife for butchering and skinning game. It wasn't until James Bowie butchered the fuck out of two guys on the sand bar that it began to change.
Why?
After that fight, Bowie and his big ass knife became famous and everyone wanted one.
And that's how things got all screwed up.
You see, every blacksmith and cutler on the planet was besieged by people wanting a "knife like Bowie's", and they would make you one...for a price. The problem is, almost none of them had actually seen Bowie's knife. All they had heard were peoples' bullshit stories about a seventeen inch super blade, made from meteors with a brass spine and huge guard to help parry attackers' blades and perfectly balanced so that you could throw it at a buffalo and kill it. No shit. People actually thought that.
So a bunch of enterprising blacksmiths and cutlers made a bunch of ridiculous nonsense and called them "Bowies" and a bunch of suckers paid for them.
OK so now you are getting all red-faced and angry cause granpappy bought his *cough* Bowie off'n Jim Bowie himself who certified it is real and now he has passed it down to you. "An granpappy ain't no liar!"
Well granpappy may not be a liar, but he is a sucker.
The good news is, there are actual real Bowie knives out there, that were commissioned by the brothers Bowie and given as gifts to different people. They retained the basic butcher knife design, but added some silver hardware, ebony handles and fancier sheaths. You will probably never stumble upon an antique outside a museum, but you could have a historically accurate Bowie made for yourself that in terms of steel and construction, could be better than the original.
This is the Shively Bowie. One of the earliest existing commissions by Rezin Bowie.

The Searles-Fowler Bowie was another Rezin Bowie design that looked pretty cool. There are a few modern companies out there today that make reproductions of this one.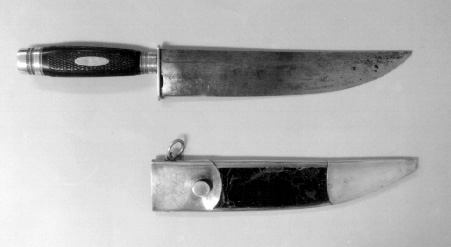 There was also the Stafford-Searles Bowie, which looked a lot like the one above.
There are other pieces claimed to be "original Bowie knives" or "Bowie's Alamo knife" but for those I will leave you with this quote by Rezin Bowie himself.
"The improvements in its fabrication and state of perfection it has acquired from experienced cutlers, was not brought about through my agency."-Rezin P. Bowie